Alexis de Tocqueville Society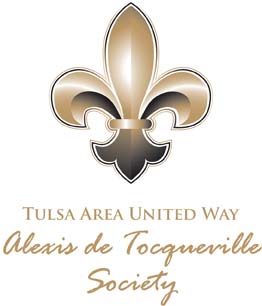 PASSION AND COMMITMENT TO THE COMMUNITY
The Alexis de Tocqueville Society is the Tulsa Area United Way's most distinguished organization of individual donors, who support the needs of their community at an exceptional level.
Tocqueville Society members support TAUW at an annual level of $10,000 or above (individual or couple.)
OUR HISTORY
The Alexis de Tocqueville Society of the Tulsa Area United Way was created in 1987 to foster, promote and recognize voluntary community service and personal giving.

The Tocqueville Society bears the name of French aristocrat Alexis-Charles-Henri Clerel de Tocqueville, who came to America in 1831. His keen observations of American society and politics formed the basis of Democracy in America, published in two volumes in 1835 and 1840.

Tocqueville applauded the voluntary spirit so characteristic of Americans. He wrote, "When an American asks for the cooperation of his fellow citizens, it is seldom refused; and I have often seen it afforded spontaneously and with great good will."
BENEFITS OF MEMBERSHIP
Each year, Tocqueville members enjoy receptions and other social events at various locations in the Tulsa area.

Tocqueville members also receive the periodic newsletter, philanthropie, which contains updates on the activities and initiatives of our local United Way.
Tocqueville members are recognized by having their names listed in the lobby of the TAUW offices in downtown Tulsa and in the annual membership registry.
For more information contact Laura Bell at 918-295-6618 or lbell@tauw.org.